Greetings and Salutations to parents, students and fellow teachers alike. My name is Eva Faustina Cheer and I currently teach Junior High English Language Arts at St. Columbkille Elementary School. I welcome you to the 2017-2018 school year here at St. Columbkille Catholic School. I hope you all had a wonderful summer and are ready for the exciting new adventures that await us in the coming year. ​This will be an amazing year and I look forward to work as a team with you and your child. In this partnership (student, parent, teacher) we all play a different role to achieve our goal of student success. I look forward to an amazing year with your children. Teachers, parents and students all have a key role to play in the learning experience. Let us all come together to guarantee the highest level of success!
Contact information:
Email: echeer@columbkille.org​
Educational background:
High School
Temple City High School
Education earned: High school Diploma
College:
Pasadena City College

Education earned: No official degree. Transfer credits only

Loyola Marymount University

Education earned: Bachelors in Liberal Arts, English
Education pending: Masters in Secondary Education (Currently enrolled in LMU's Place Corps Educational Masters program)
My Classroom:
I have high expectations for my students.
I know English can be challenging. There are a lot of rules and it can be overwhelming
I want my students to know that I will be here to guide them along their journey.
I encourage to make mistakes because it is how we learn.
Students need to responsibility for the following in my classroom: learning, work habits and behavior
Students will develop their reading and writing skills
Students will be graded based on their Language Skills and Reading/Literature
Learning is a team effort. I will provide students with the tools to succeed but it is their responsibility to complete the tasks they are given
Expectations
Students must come to class prepared daily and bring the following:


Themselves: Attendance is important and I do not want students to fall behind

A positive attitude and willingness to learn.

Questions: Write down any questions regarding homework, lectures or classroom activities

All required school supplies: In order for students succeed, they must bring all of the items asked of them in their supply list. They must also bring all of their books to every class.
Powered by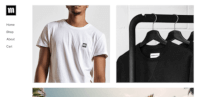 Create your own unique website with customizable templates.